For intrepid travelers willing to make the journey down to the Patagonia region, the rewards are great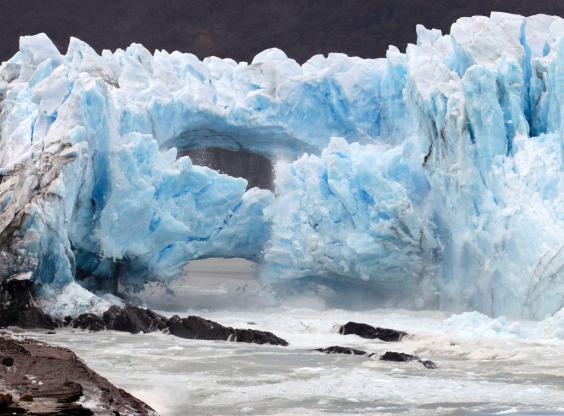 With ice that appears to "flow" in waterfalls and some of the largest, most accessible glaciers in the world, Los Glaciares National Park in Argentina has been recognised as one of the most spectacular natural landscapes in the world.
On May 11, 2017, the park will celebrate 80 years since its official inauguration as a federal protected area in 1937. Los Glaciares was declared a Unesco world heritage site in 1981.
The park is located on the Chilean border in the southwestern Argentinian province of Santa Cruz. When its ice melts, the water flows down from the Andes to the Atlantic on one side and the Pacific on the other.
Most ice caps elsewhere in the world exist only at altitudes of 2,500m or more above sea level. In Los Glaciares, due to the sheer size of the ice cap, glaciers appear at just 1,500m above sea level, and flow down to 200m.
Ice cracks from the wall of the Perito Moreno Glacier located at Los Glaciares National Park (Getty)
For intrepid travellers willing to make the journey down to the Patagonia region, the rewards are great - and Los Glaciares has become a popular tourist stop. Flights will get you to Buenos Aires, from which there are regular buses to major cities and easy access to the park by bus from Route 40.
It's also reasonably priced compared to similar experiences in the likes of Iceland - with national park entry
coming in at around £16 and trips to see the glaciers costing about £21.
One of the most accessible glaciers is Perito Moreno, reached via the charming town of El Calafate.
Independent Travel
's verdict: "The sheer spectacle of standing beneath a towering wall of ice, fractured into a thousand glassy shards, is worth going out of your way for."
Source: Independent